Introduction
We are now well into the 5th month since the start of the UAE government's response to the COVID-19 pandemic. Till-date, UAE residents have been impacted across all aspects of their daily lives, including their working habits (see 1st Blog Post Grocery Shopping in Dubai, 2nd Blog Post Human Mobility in the UAE). New workplace regulations, employee capacity limits in offices and remote working initiatives have been implemented to protect the wellbeing of the public and reduce the risks of viral spread.  In a bid to measure the degree to which working habits have changed, we measured employee movements across the 6 main commercial hubs in the UAE over the last 4 months and surveyed residents for their views on how COVID-19 has impacted their financial prospects and working preferences.  
Methodology
We utilised location signals from 3 million devices across the UAE which generated a large aggregate dataset for evaluation.  We concentrated on 6 key commercial hubs in both Abu Dhabi and Dubai starting in late March 2020 when restrictions were put in place, through to July 2020 after restrictions were eased. In this period, workplace capacity was limited to 30% and then increased back to 100% at the beginning of July.  To support our mobile dataset review, we questioned 300 UAE residents in June 2020 via an online survey to determine their opinions on returning to the workplace and their employment status.
Human Mobility: Commercial Hubs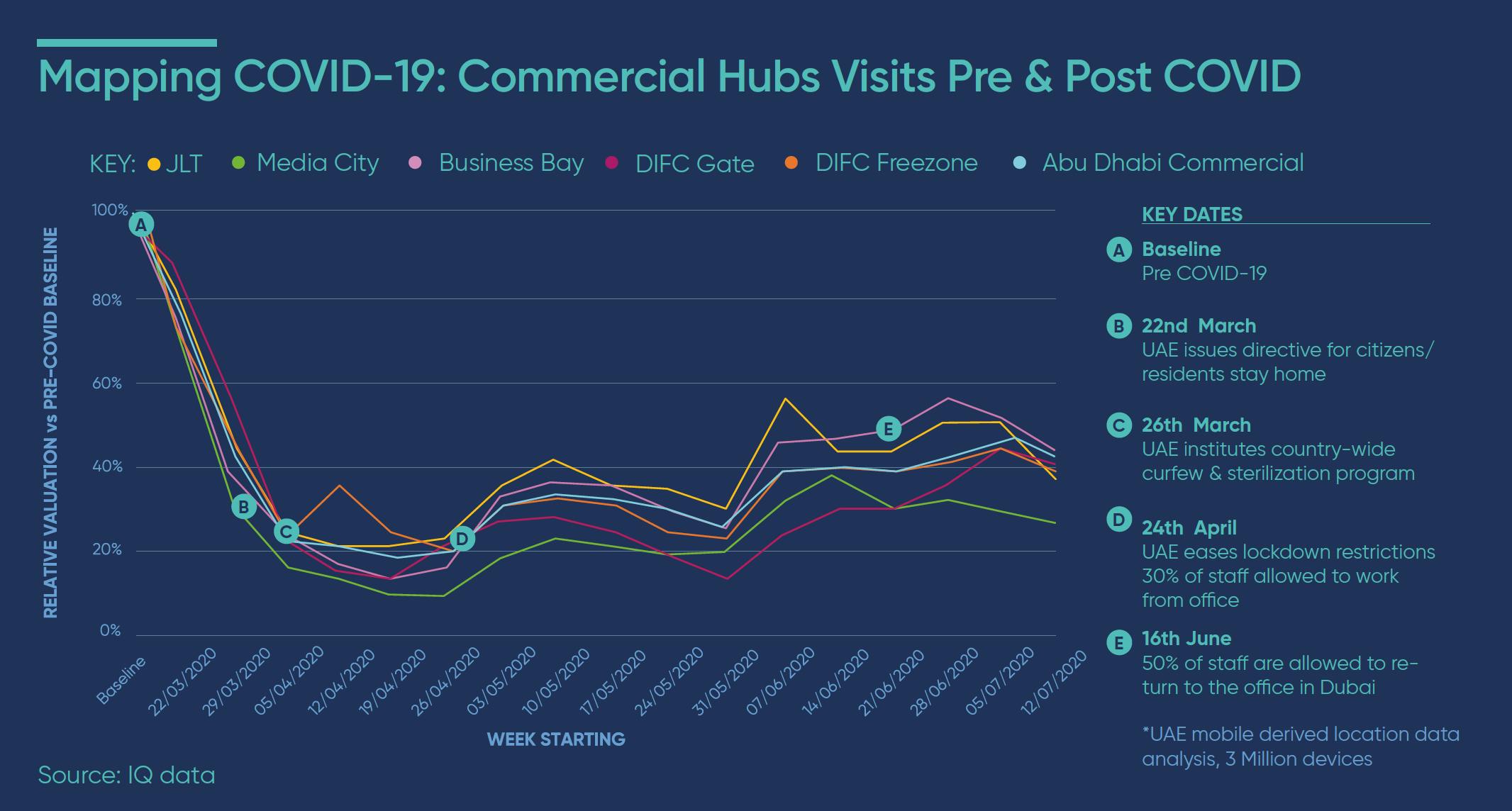 In March 2020, the UAE implemented a work from home order for non-essential staff which forced companies to adopt remote working measures for their employees. The footfall trends across the 6 main commercial hubs in the UAE all revealed a steep drop from mid-March to mid-April resulting in around 80% reduction in human mobility in offices during this time. From its lowest point in mid-April, the data reveals a slow yet steady recovery over the 3 ensuing months resulting in footfall levels eventually hovering at an average of 40% compared to pre-COVID-19 levels. Essentially, human mobility in offices has been recovering but only slightly and remain far below where they were prior to the pandemic.
Some commercial hubs seem to have been impacted more than others. For example, Dubai Media City, has consistently trailed the other commercial hubs and one likely explanation is due to this free zone introducing further restrictions on top of UAE government mandates. Another possible explanation may be the result of heavier job losses experienced in response to the financial impact endured by media companies across the region. Dubai Media City is a well-known regional hub for the media industry already facing economic hardships even before the pandemic had a say in their fortunes.
The remaining business districts all follow a similar trend to each other and seem to correlate in line with government announcements on workplace restrictions. In June, there was a small spike in footfall across all the commercial hubs in-line with increases in allowable office staff capacity from 30% to 50%. Eventually office capacity restrictions were lifted completely in July, but it hasn't had any measurable impact according to our data thus far and human mobility rates in commercial hubs remain far from full capacity. 

Financial Impact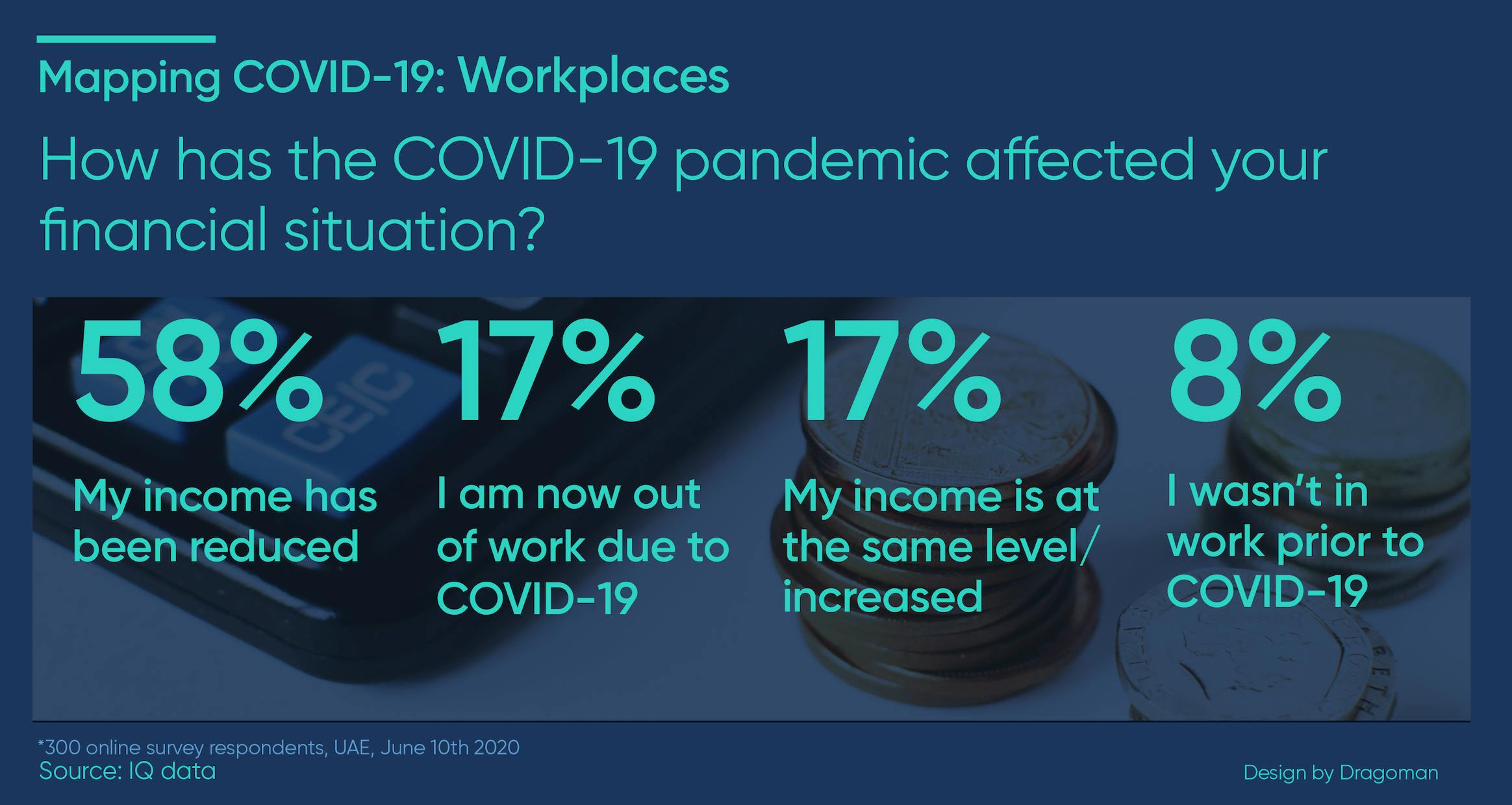 There are ongoing debates surrounding the full impact that COVID-19 will have on economies around the world.  As in other countries, in the UAE many individuals have lost their jobs or have been placed on reduced salaries. Most respondents or 58% reported a reduced income with a further 17% unemployed on account of COVID-19; a worrying trend for an economy reliant on providing lucrative employment opportunities to a largely expatriate workforce. Only a minority of UAE respondents or 17% state that their incomes have been adversely impacted. These insights may further shed light on the reasons as to why business hubs are not back at full footfall capacity despite easing workplace restrictions. Unlike some countries, the UAE doesn't provide a government sponsored furlough scheme in support of local business owners. This combined with limited social safety nets is already resulting in a large exodus of workers back to their home countries, thereby amplifying the economic effects of the virus in the short term. 

Workplaces of the Future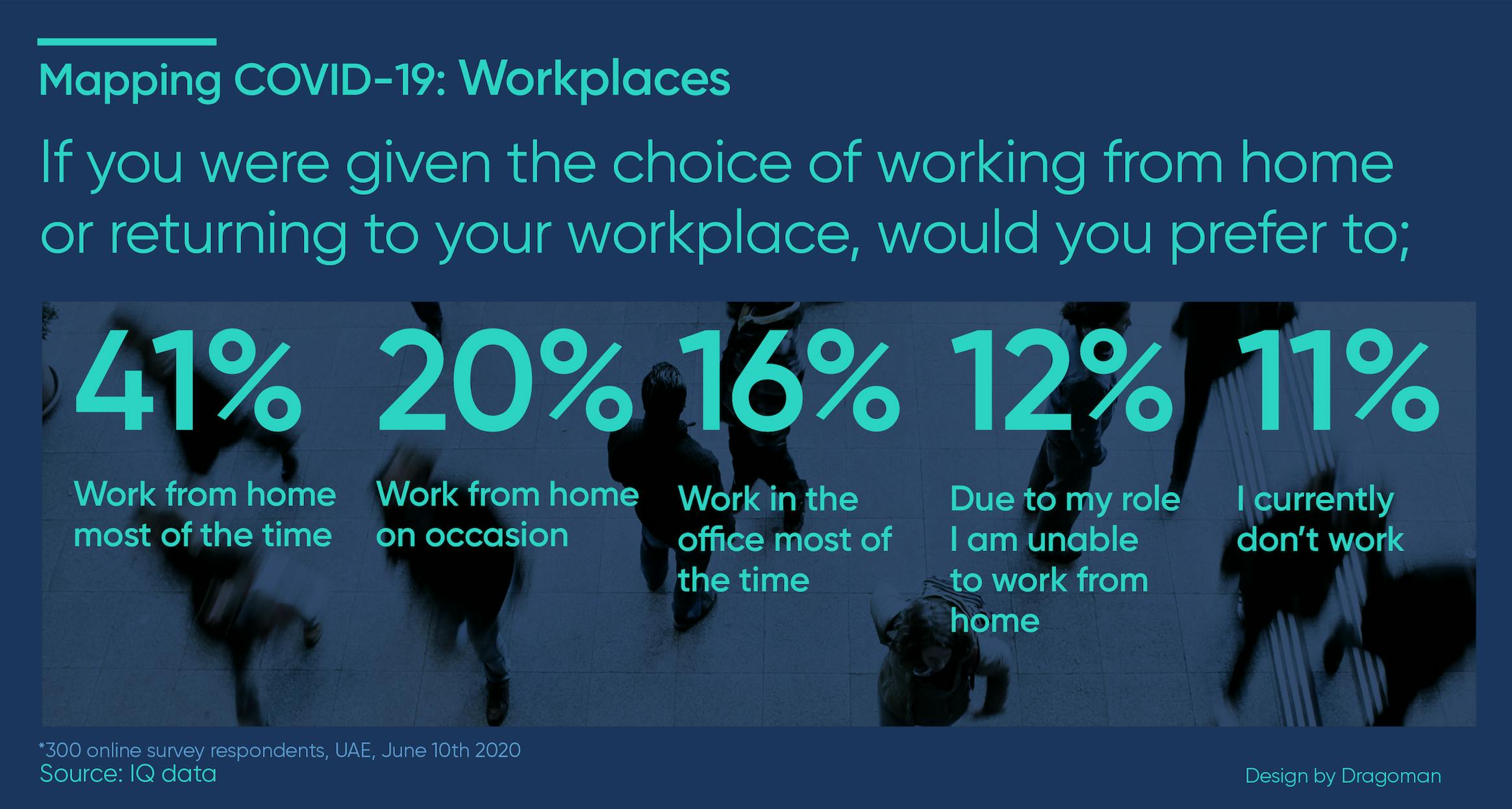 The deeper question remains as to whether the UAE's offices will ever fully recover at all. We are keenly interested to monitor the long-term impact on local companies and whether they will revert to regular business activities prior to COVID-19 or if there is a paradigm shift in how workforces are organised going forward.  Already some UAE companies have announced additional remote working conditions and claim commitment to more flexible work environments.  
Most of our UAE respondents if given the choice, would prefer to work from home either most of the time or on occasion with 61% agreeing to these two options. It seems that individuals would like more working flexibility from their employers. Only 15% countered that they would prefer to work from the office most of the time. Of course, these sentiments are not necessarily new as there has been significant research into shifting workplace trends even prior to the pandemic, but the virus has only accelerated the need for businesses to rethink how workforces should be managed in the future. It is worth remembering that not everyone has the luxury of this choice, 12% of respondents stated that they are unable to work from home due to their job role or function.  

In Summary 
As our series "Mapping COVID-19" attests, our data reveals a strong relationship between COVID-19 and residents' behaviours across many aspects of our lives here in the UAE. In terms of our working habits, it appears we may be moving into a new workplace reality that has only just started taking shape. Will the UAE office bounce back post COVID-19 or are we witnessing a shift in workplace culture as it relates to flexible working, distributed teams and agile organizational structures? What does this mean for the future of the UAE as whole? Recent technology developments certainly support these cultural shifts, the question is whether it will ultimately lead to improved operational efficiencies and happier, more productive employees. 
Contact Us
Here at IQ data we're here to help you gain new data driven insights to help you make better informed decisions. Leveraging our IQ GeoPlace Customer Analytics Platform, IQ data conducts location data analysis across specific venues or networks of venues to put more context around footfall and visitors. To enquire or for further info please reach out to info@iqdata.ai to learn how we can help you.