1. Saudi Tourists in Dubai (last 60 days)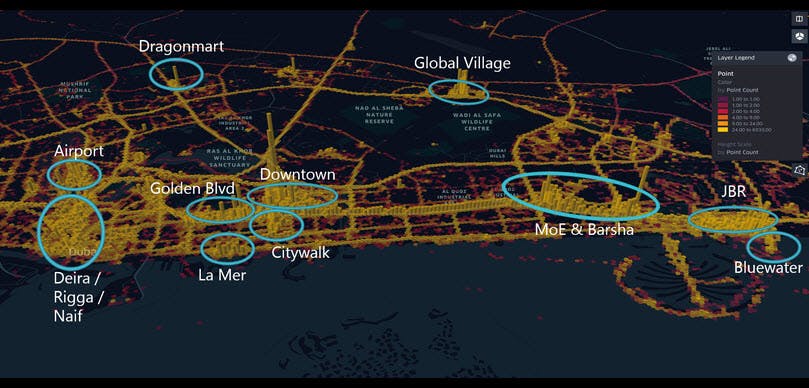 Over the past 60 days, the Saudi tourists observed in Dubai tended to cluster heavily within the Downtown area visiting Dubai mall and the Burj Khalifa itself whilst likely staying in hotels nearby. There is also heavy activity in and around Mall of Emirates and Barsha Heights as well as Jumeirah Beach Residences (JBR) which have a number of hotels and residences that tend to do well in attracting Saudi guests. Other notable destinations include Dragonmart, Global Village, La Mer, City Walk and Bluewaters island. Dubai International Airport shows activity but this is not as significant when compared to other nationalities, lending to the assumption that Saudis may be entering Dubai via other airports or more likely, driving into the country via the shared border connecting the two countries at the South Western point of the UAE.
2. Chinese Tourists in Dubai (last 60 days)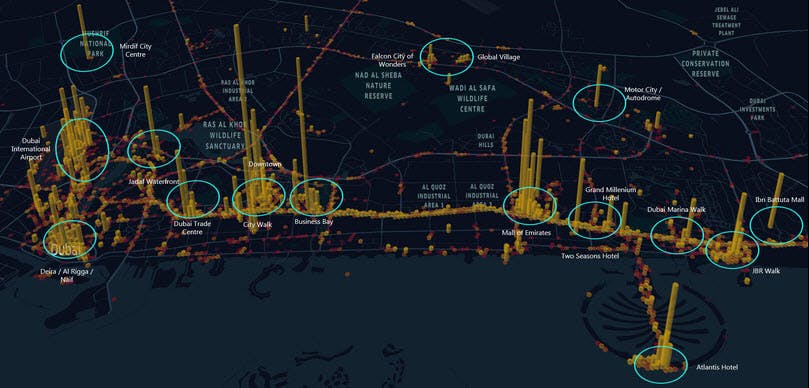 The Chinese tourists observations tended to cluster into smaller areas when compared to Saudi tourists resulting in more isolated, higher cluster peaks. One may assume that Chinese tourists are more destination driven when compared to their Saudi tourist counterparts. The Downtown area as well as Mall of Emirates feature heavily as expected but in addition to this, Dubai Trade Center, Business Bay and Jadaf Waterfront feature strongly. In terms of shopping, Mirdif City Center, Ibn Battuta and the Gold/Spice Souks in Deira reveal high activity. In terms of hotels, The Grand Millenium, Two Seasons and Atlantis Hotel look like popular places to stay. Finally there is heavy observation activity in Dubai International Airport demonstrating this as a key travel entry point to the city.
This analysis is limited in that it only looks back at the previous 60 days using a sample of data, but visualizations like this demonstrate the value of location analysis when comparing and contrasting two groups of defined audience to eachother.