Introduction
Recent protests across the USA (and internationally) have overshadowed the COVID-19 pandemic in recent weeks but the virus continues to impact countries around the world. From nationwide lock-downs to curfews, governments have implemented social distancing and movement restrictions in a bid to reduce human mobility and curtail the spread of the virus. As part of our ongoing series "Mapping COVID-19" (See 1st Blog Post: Grocery Shopping in Dubai), we've investigated the human mobility patterns across the UAE in correlation to government movement restriction announcements and temporary closures of commercial entities.  In particular, we are interested in understanding what the "new normal" means for both residents and businesses across the UAE in the wake of this pandemic.
Methodology
We leveraged 3 Million devices generating location signals across the UAE resulting in a large aggregate dataset for analysis. We focused on 20 residential and commercial districts across the Emirates of Abu Dhabi and Dubai from February 2020; representing the early days of the global spread of COVID-19, to the end of May 2020 when movement restrictions eased across the country. To support our mobile dataset findings, we also conducted a online survey of 300 UAE residents in June 2020 to garner their views towards activities generally associated with leaving their homes and returning back to normality.
Human Mobility across Abu Dhabi and Dubai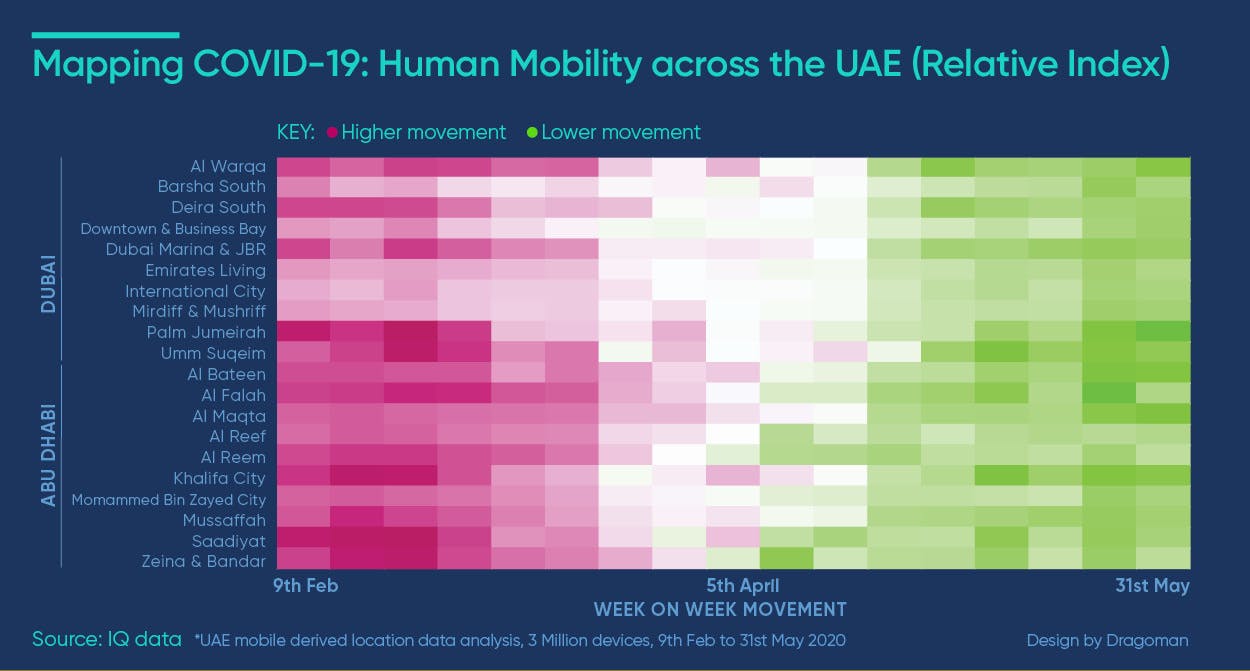 From February 9th to May 31st 2020, the UAE has undergone a rapid decline in the mobility of its residents and this reduced movement continues even as government restrictions have been lifted. Starting in February, prior to the UAE spread of COVID-19, larger mobility patterns were higher and reflected levels more typically associated with previous months. Our data reveals that pre-Covid-19 mobility was highest in high density/low wealth indexing areas such as Deira in Dubai. Conversely, higher movement patterns were also observed in areas that are popular destinations for entertainment, shopping and tourism including Dubai's Palm Jumeirah and Downtown as well as Saadiyat Island in Abu Dhabi, all of which cater to the mid-to-higher income communities.
March 1st 2020, marks the beginning of government-imposed restrictions. Schools and nurseries across the country were the first to be ordered to close. The reduced movements in specific areas catering to the education sector, such as Barsha South and Umm Suqeim in Dubai saw a significant decline in human mobility soon thereafter. The UAE government continued to increase restrictions on the 15th March ordering the temporary closures of commercial and public facilities. This included public parks and beaches, F&B outlets, gyms and hotels. Post this announcement there is a significant visible drop in mobility across all recorded areas. As of 24th March, further declines can be seen following airport closures and the implementation of the 8pm to 6pm curfew due to the National Sterilisation Programme.
Throughout April, stringent social distancing and health safety regulations were executed across the country and a temporary 24-hour lockdown was implemented in the UAE with full movement only permitted for blue-collar and essential workers. As expected, the data reveals a strong correlation between residents' movements and increased nationwide movement restrictions.
Easing of Restrictions in the UAE
Beginning in May, the government began to reduce restrictions and yet UAE residents responded with an additional reduction in mobility even when compared with prior months firmly under lock-down. The end of May marked the Eid holidays and several local hotels reopened to support the recovery of the local tourism sector, and despite some temporary increases, overall mobility remained at the lowest levels observed during the entire 4-months across both cities and all areas.
Household Size and Income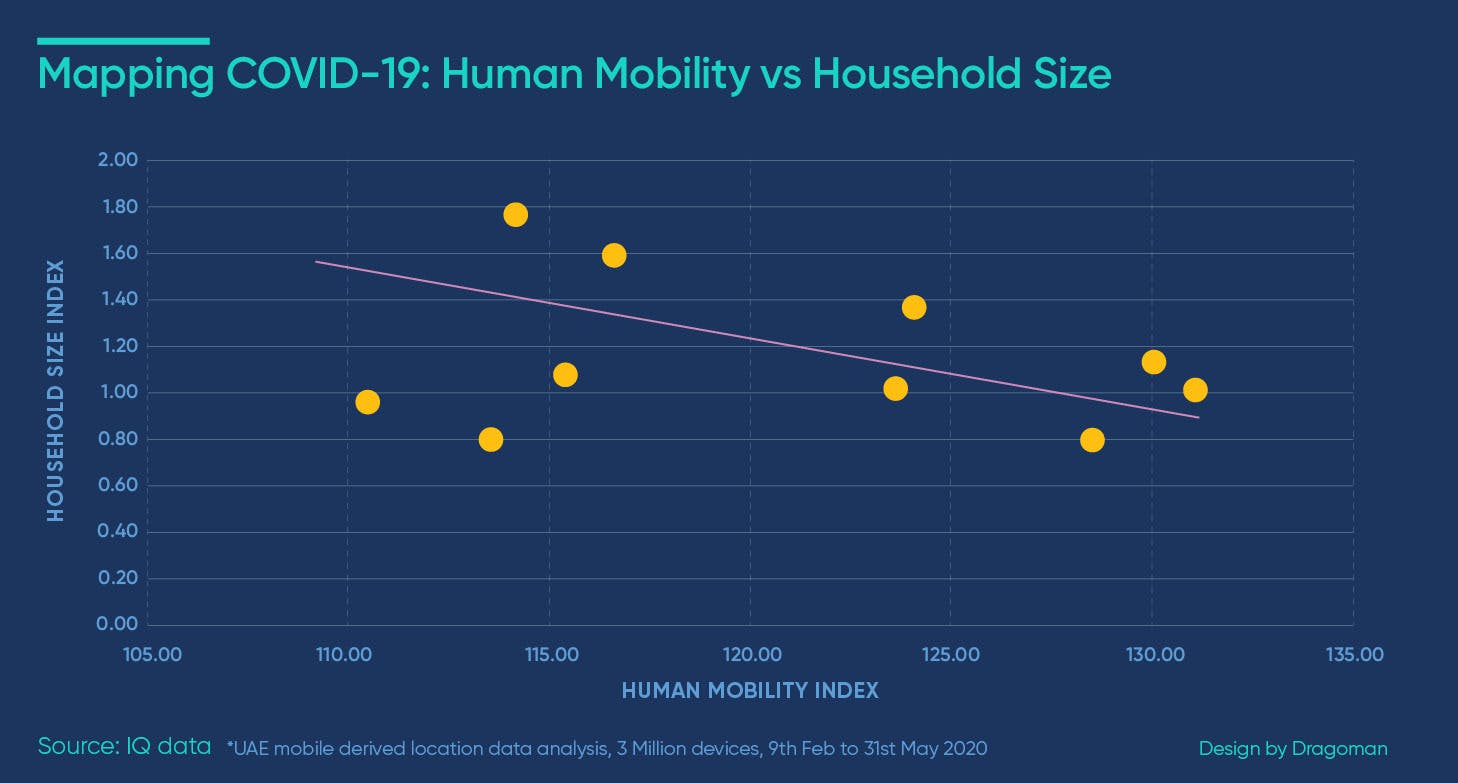 Given that during the past 4-months we have witnessed a largely consistent reduction in human mobility across the UAE irrespective of city or neighbourhood, we decided to dig deeper and look at other factors such as household size and income. Which households display the highest movement patterns and hence are at most risk of contracting COVID-19? Interestingly, in both cases there is a relationship with one revealing a negative correlation and the other, a much stronger positive one. In terms of household size, neighbourhoods which are on average larger (i.e. more children) reveal higher movements than those with smaller household sizes. This finding points towards several causes and hence cannot be definitively explained. All we can say with any confidence is that the data highlights that the larger the household size the less likely its occupants stayed home during the pandemic; aside from this, further analysis would be required.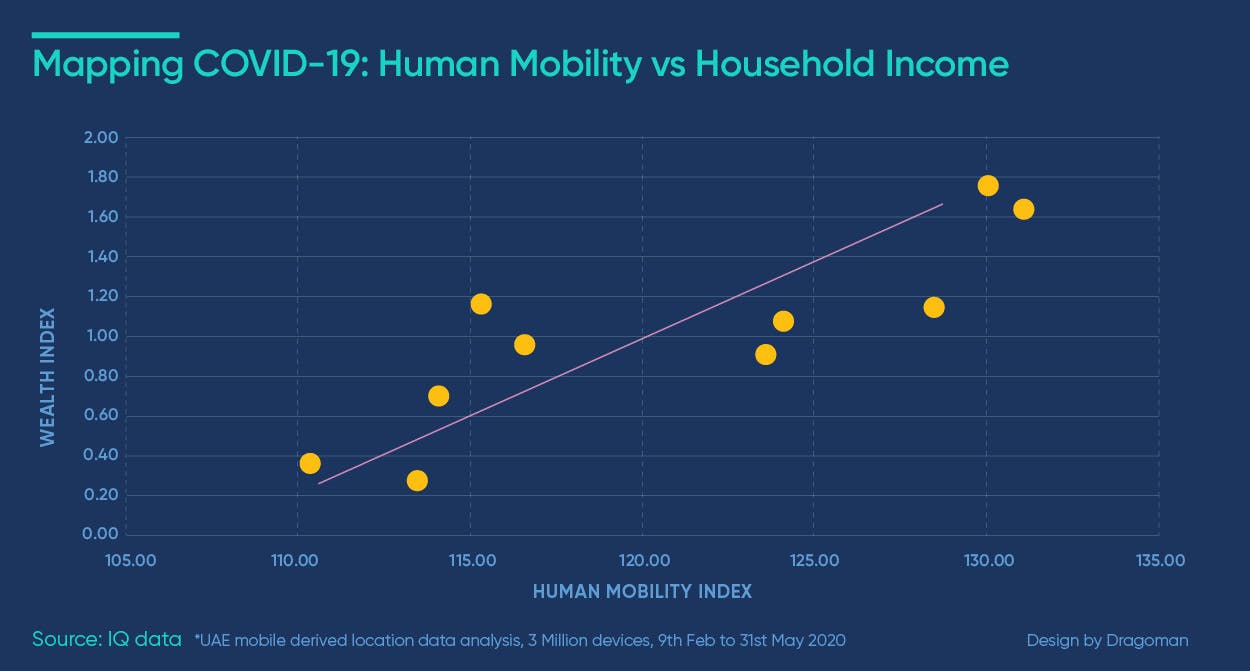 In terms of socio-economics, the households and wider neighbourhoods averaging the highest incomes tended to stay home more and venture out less. We measured 10 separate residential areas spanning the socio-economic spectrum across the UAE and the correlation is even stronger than household size. The most obvious explanation is that the wealthier households have the luxury of working from home and are employed in roles that do not require being in-station. We all know that the COVID-19 virus doesn't discriminate but It is clearly evident that some people are at higher risk than others given that poorer communities may be working within industries which cannot offer home working options; one stark example being the Al Ras area, which made the local news due to its highly publicized outbreak.
The "New Normal"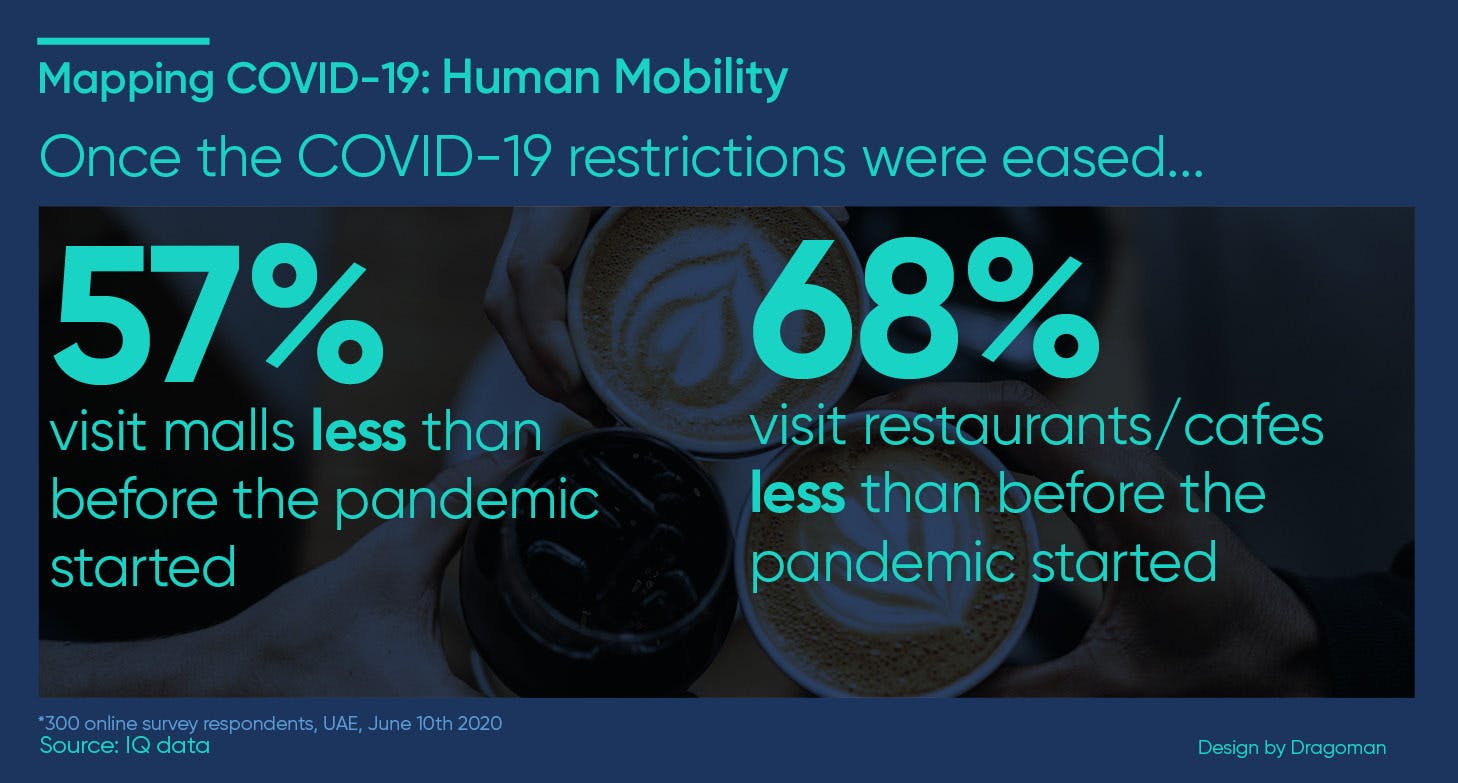 In a bid to augment our human mobility data, we conducted a survey in parallel with 300 UAE based respondents to evaluate the overall opinions on dining, socializing and shopping in public post-COVID 19.  Overwhelmingly, a vast majority or 68% of respondents state that they are visiting cafes and restaurants less despite easing restrictions and the reopening of many establishments. Numerous considerations are likely contributing to these sentiments, including financial as well as risk avoidance. Clearly UAE residents will continue to reevaluate their spending habits and are being more cautious than before COVID-19.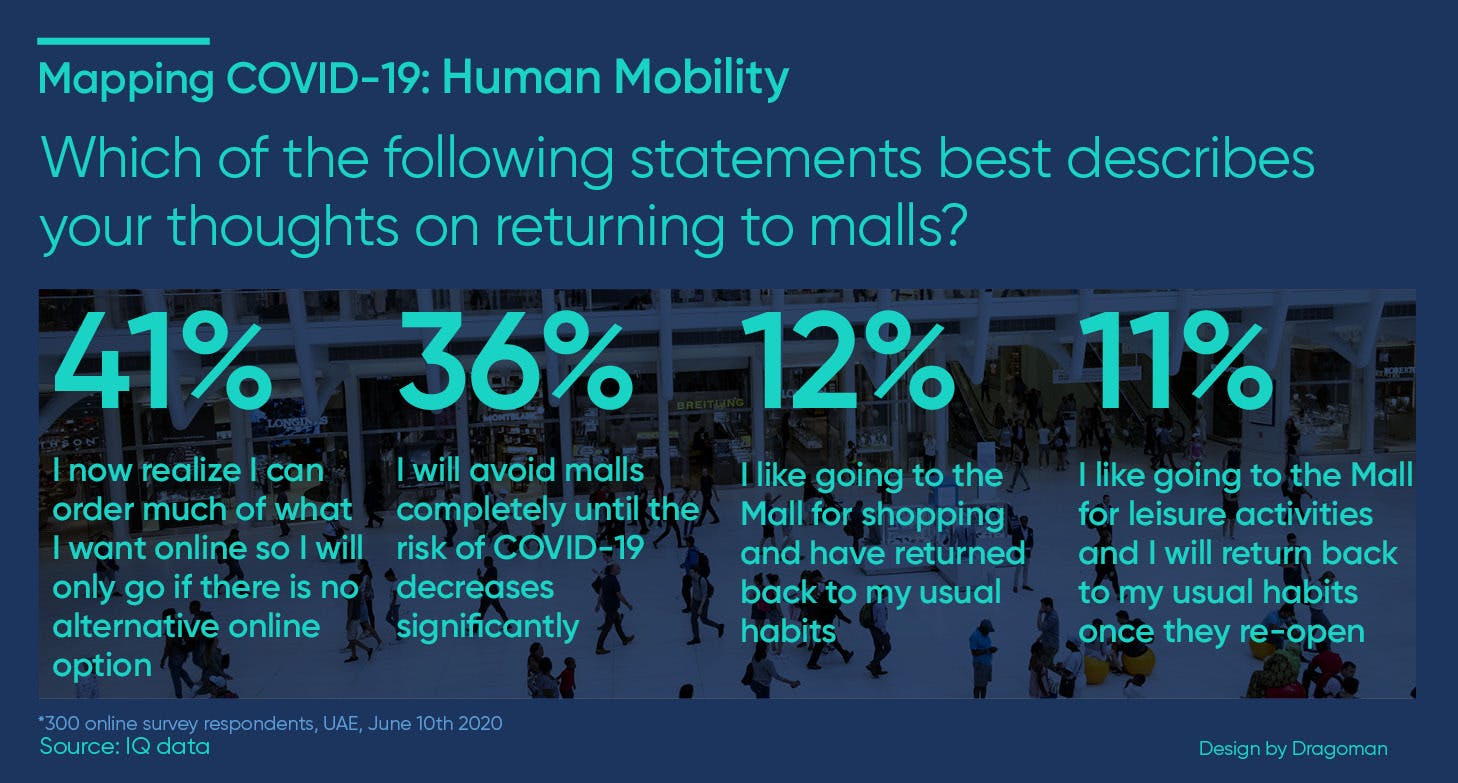 Similarly to F&B outlets, malls will continue to face reduced visitor numbers in the near-term at least. Despite most malls reopening across the UAE, 57% of residents claim they visit such destinations less than before the lock-down. Given the centrality of shopping malls as both retail and leisure destinations across the UAE, we decided to dig deeper into this to better understand the underlying reasons. The most prominent response was not related to COVID-19 but rather an emerging consumer transition to ecommerce with 41% of respondents now preferring to order products online. Much like our findings in the previous post related to grocery shopping online, this feedback represents a potentially seismic shift in wider consumer retail habits and only time will tell if such sentiments will last. A further 36% of respondents did cite COVID-19 concerns as their primary reason, agreeing with the statement that the risk of infection needs to reduce significantly before these residents would be more willing to return to the malls. Combined, these two groups represent a whopping 77% of all respondents surveyed. Clearly the retail sector is facing steep challenges ahead.
In Summary
Evaluating the impact of curfews and movement restrictions on UAE residents' mobility reveals potentially enduring changes in both social dynamics and shopping behaviours. We learned that the poorer, larger households are potentially the most at risk from contracting the virus given their movement patterns and inability to stay home relative to wealthier counterparts. However, all districts measured across the UAE's two largest Emirates are displaying far reduced movements despite easing restrictions. Through our analyses, it seems clear that this represents a significant shift in behaviours even though the country is moving back to normality.
Contact Us
Here at IQ data we're here to help you gain new data driven insights to help you make better informed decisions. Leveraging our IQ GeoPlace Customer Analytics Platform, IQ data conducts location data analysis across specific venues or networks of venues to put more context around footfall and visitors. To enquire or for further info please reach out to info@iqdata.ai to learn how we can help you.