Introduction
Here in the UAE, as in most countries around the world, retail shopping over the past weeks has been largely shutdown save for a few "essential" retail sectors. In addition to pharmacies and restaurants (open for home delivery only), supermarkets remained fully open (8am - 8pm daily) providing a much needed service to residents across the country. This activity provides IQ data with an active sector still generating footfall trends. Given the unique societal impact the virus represents, we decided to investigate. This blog post represents the first in a series titled "Mapping COVID-19" focusing on the UAE in the time of the virus. For each analysis we leveraged surveys to uncover UAE residents' views and opinions to augment what we are revealing from their physical behaviors.
Methodology
Our analysis utilizes IQ data's mobile device derived location signals across the UAE and for the purposes of this analysis, we leveraged 3 Million monthly active users (MAUs) or unique devices which together generate approximately 900 Million location signals each month. Additionally, we included:
21 supermarkets across Dubai
300 online survey respondents living in Dubai
Timeline of 12 consecutive weeks from 2nd February to 26th April 2020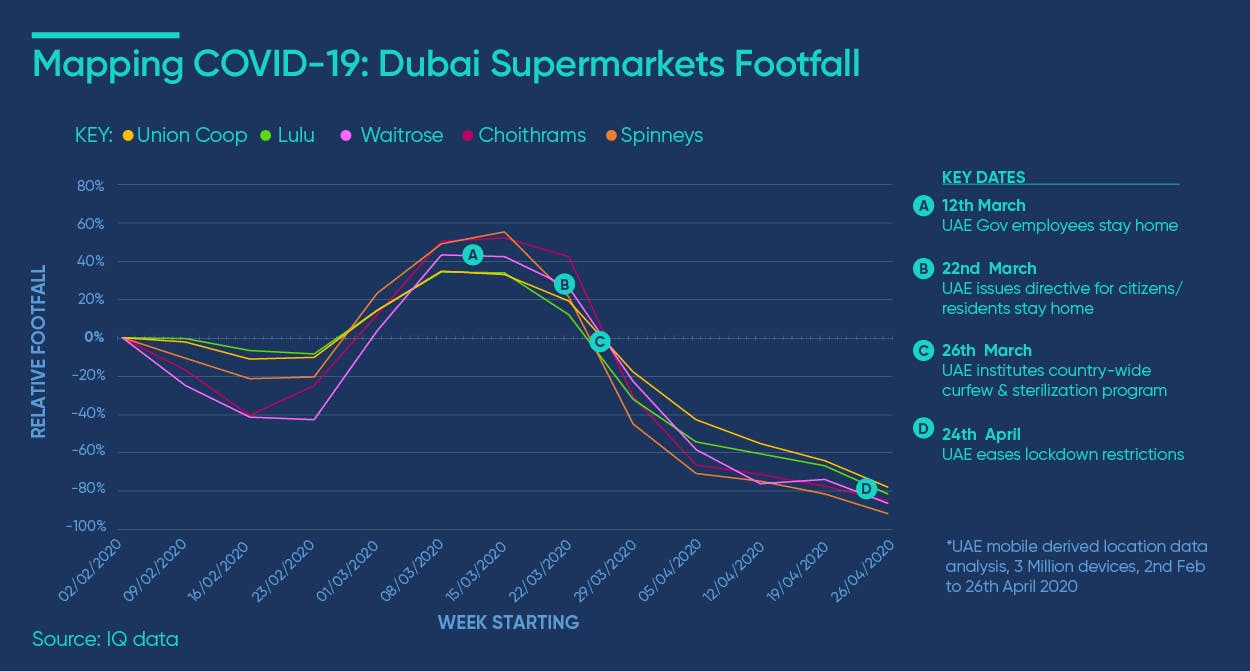 Supermarket Volatility
As per the chart above, supermarket visitation habits across Dubai have undergone volatile swings as COVID-19 events unfolded. First, by increasing sharply during March and then declining precipitously soon thereafter. The upswing in visits was largely expected. As in other countries, many Dubai residents may have decided to stock pile essential items or had given in to "panic buying". Possibly as a result of media sources reporting incidents of product shortages and hysteria gripping shoppers in other countries. However, interestingly supermarket visits soon began dropping starting the last week of March and falling week-on-week in April resulting in all brands experiencing over 50% loss in footfall compared to pre-COVID-19 levels. This drop in footfall persisted throughout April so far.
All 5 supermarket chains included in the analysis experienced visitor trends that mirrored each other. Part of the drop in traffic could likely be attributed to increasing restrictions being applied to residents with curfews being implemented and extended into full-blown lock-downs. That said, we believe that other factors are also contributing to this change and may result in fundamental shifts in grocery shopping behavior which may endure post COVID-19.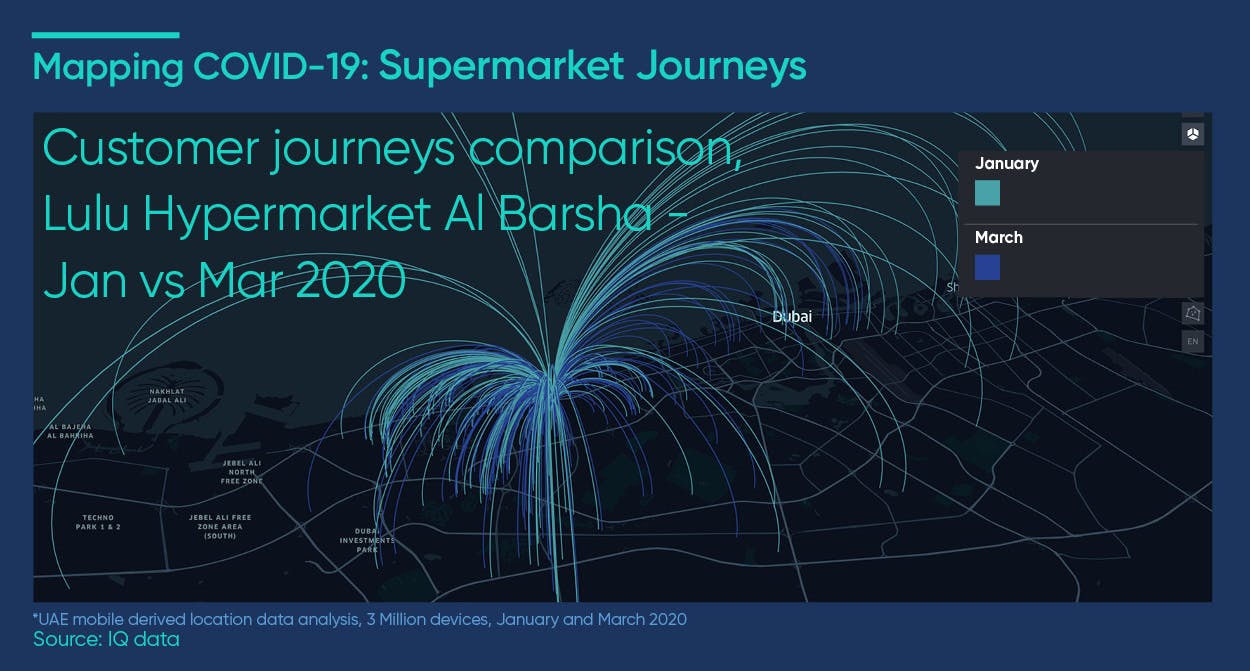 Reduced Supermarket Journeys
Just as supermarket footfall reduced so did average journeys. Analyzing 21 supermarket stores across Dubai we observed a noticeable drop in travel distances by shoppers to stores. In effect, each supermarket's catchment area reduced during COVID-19. As restrictions increased, Dubai residents increasingly limited their grocery shopping trips to local, nearby supermarkets eschewing the larger 'destination' stores. This trend had an impact on supermarkets across the city but affected the larger stores most. Lulu Hypermarket in Al Barsha is one such example. Pre-COVID-19, this store had one of the largest catchment areas of any supermarket in Dubai. During COVID-19, this catchment area reduced significantly as visualized using store visit "arcs" in the image above.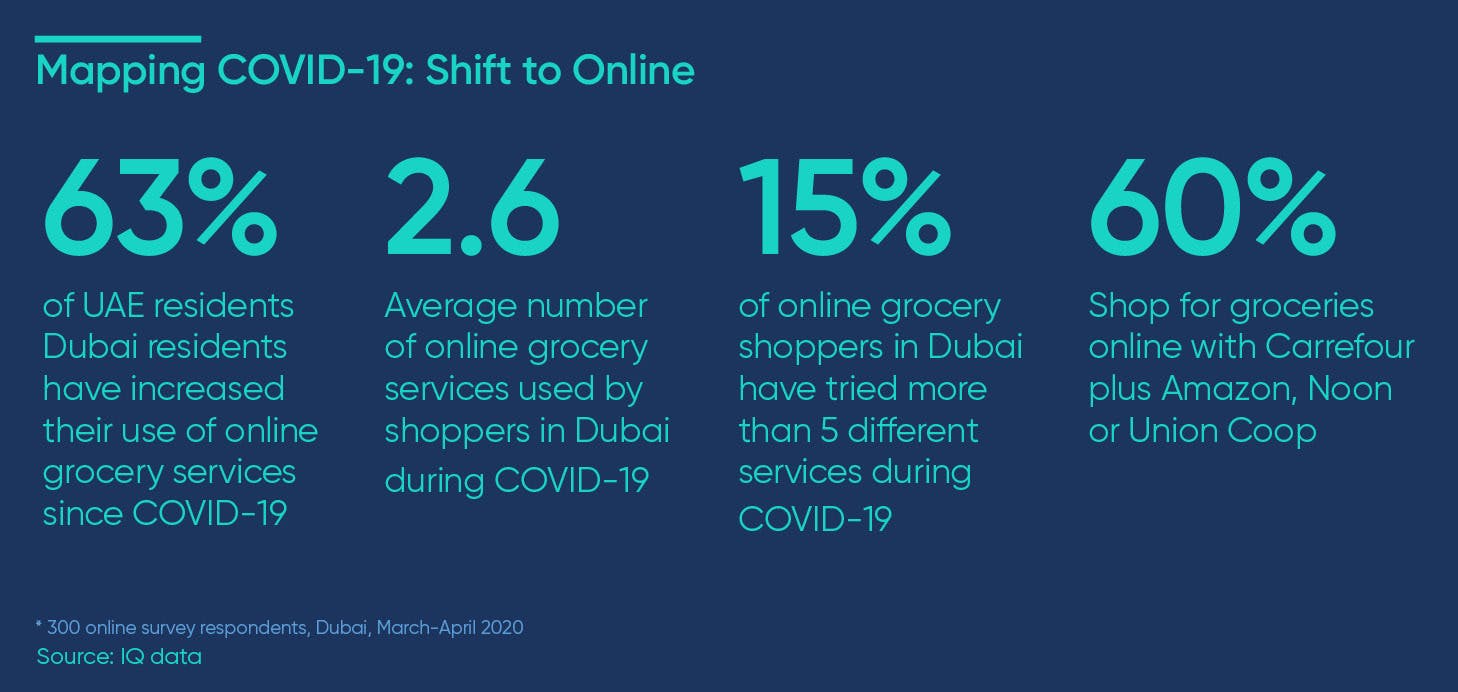 Shift to Online Grocery Services
As March drew to a close, the increased supermarket footfall began to reverse and decline. It's during this period that growing numbers of Dubai residents increased their use of online grocery services. According to our online survey, nearly two-thirds or 63% of Dubai residents claimed to increase their usage of online grocery websites and apps, representing a significant percentage of the population in a short space of time. In a sense, the past 4-weeks have marked a new milestone as an increasingly critical battlefield for supermarkets all vying for market share online.
However, Dubai residents used the lock-down to shop around. They compared and trialed various options, averaging 2.6 separate online services per respondent thus demonstrating a lack of loyalty, dissatisfaction and/or selectivity based on item requirements. Moreover, a sizable minority of 15% of respondents admitted to using over 5 separate online grocery services during the COVID-19 pandemic further emphasizing this point. In terms of competitive overlaps, the brands most likely to compete and share customers involves Carrefour as the current online market leader pitted against Amazon, Noon or Union Coop respectively, these competitors attracting a sizable majority of 60% of all survey respondents.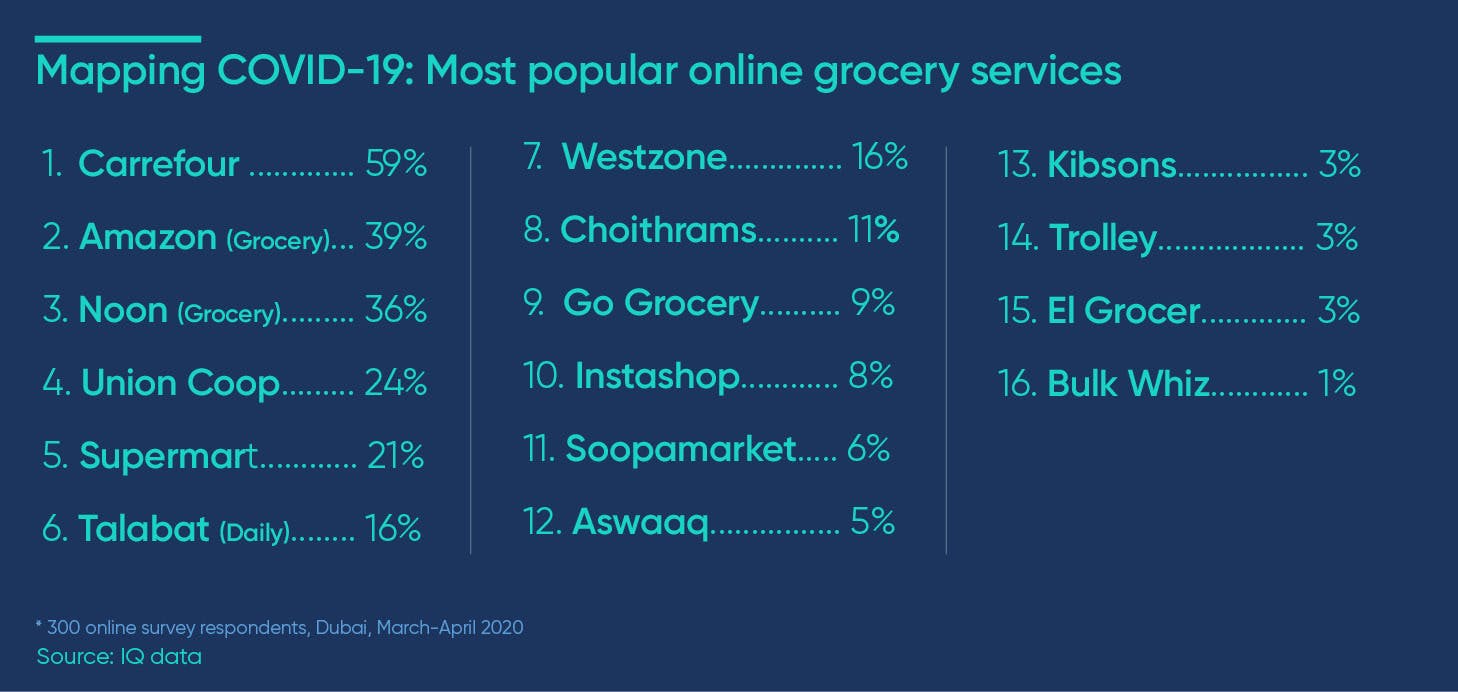 As with any large volume marketplace, it inevitably attracts numerous companies given relatively low barriers to entry. In line with this, the UAE online grocery marketplace remains crowded with competitors. Dubai residents' preferences remain widespread resulting in 16 brands attracting 1% or higher brand preference. Interestingly, brick and mortar supermarket brands such as Carrefour, Union Coop and Choithrams feature significantly, surrounded by digital native brands such as Amazon, Noon and Talabat amongst others.
Online grocery shopping clearly remains a competitive market segment and any rapidly shifting consumer habits represent significant opportunities. This should serve as a warning sign to established supermarket players with little to no eCommerce presence currently.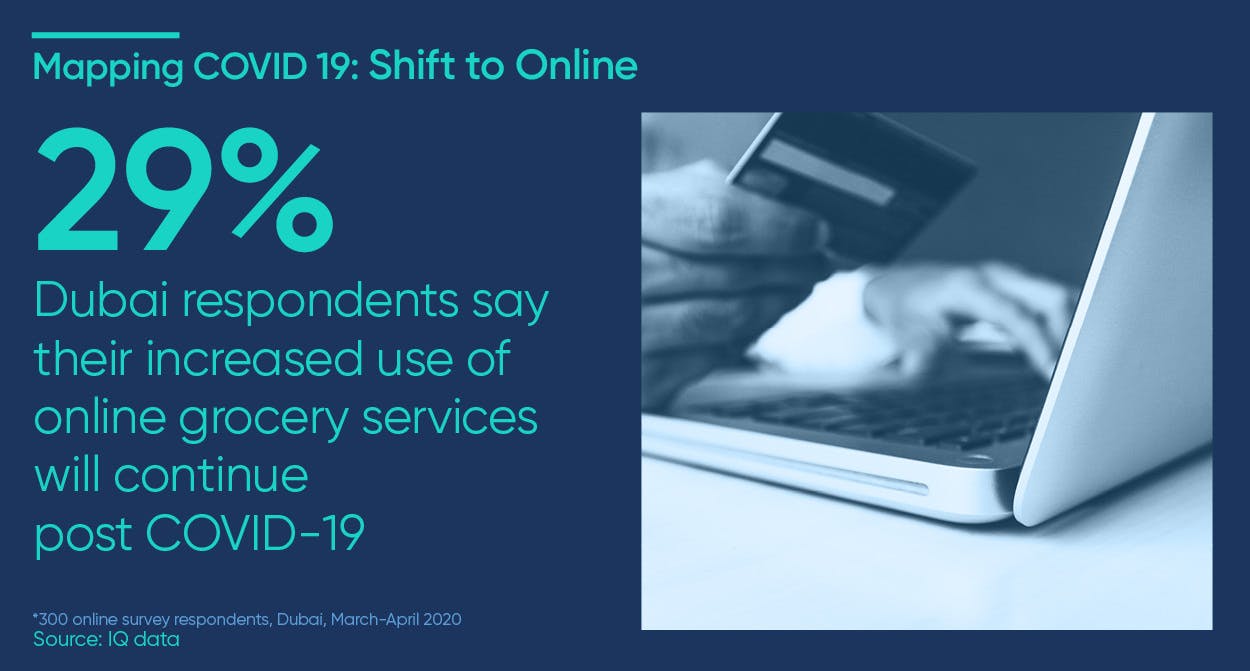 Post COVID-19
There has been much media speculation around our lives post COVID-19 and the permanent shifts in peoples' behavior that will endure as result of the virus. In the UAE, we have already begun the process of a phased reintroduction back to normality with reduced restrictions on social distancing and movement across the Emirates announced just this week. As for whether supermarket footfall returns back to levels witnessed pre-COVID-19 remains to be seen.
At this stage, Dubai residents' sentiments would suggest otherwise with nearly a third or 29% of our survey respondents stating that they will continue their increased use of online grocery services even once the virus threat has passed. So in this sense, the COVID-19 pandemic has only served to accelerate an already existing consumer trend in shifting retail habits from physical shopping towards eCommerce merchants.
Contact Us
Here at IQ data we're here to help you gain new data driven insights to help you make better informed decisions. Leveraging our IQ GeoPlace Customer Analytics Platform, IQ data conducts location data analysis across specific venues or networks of venues to put more context around footfall and visitors. To enquire or for further info please reach out to info@iqdata.ai to learn how we can help you.