As the maxim from W. Edwards Deming goes "without data you're just another person with an opinion". 
Within the MENA region, Big Data and, in particular, location data continues to remain a largely untapped source of insights. Especially true for retailers who either may not know very much about their venue footfall, their visitors, or may rely on limited techniques such as sampling surveys that provide at most a limited snapshot not allowing for the constantly evolving customer and marketplace. Having a continuous near-time understanding of your customers, where they live, work and play can provide a valuable source of insights that can drive retail and marketing strategy. 
The Venue
City Walk is an exclusive Meraas lifestyle community merging high-end retailers, restaurants, hotels, residential properties & wellness centers. Located close to one of Dubai's key arteries; The Sheikh Zayed Road, City Walk is centrally located and can serve numerous residential neighborhoods across Dubai.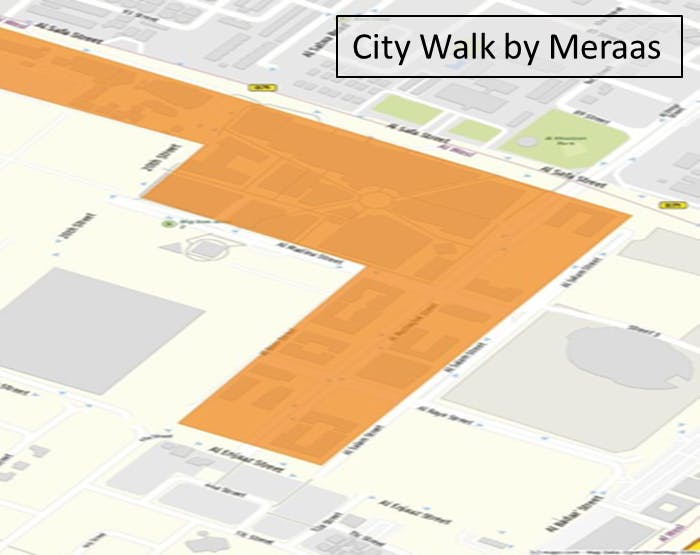 The Objective and Methodology
The objective of this heatmap analysis is to understand the home location distribution of visitors to City Walk between 10am-10pm for the last 60 Days. The starting point is to geo-fence City Walk and begin observing mobile device movements in and out of the defined area.
Utilizing IQ data's UAE mobile user data set which totals over 4 Million smartphone devices, City Walk visitor home locations can be modeled based on repeated observations in the late evening and early mornings from the same location. The Heatmap provides a relative clustering and density comparison of visitor home locations as an indicative yet strong visual view that can warrant further analysis.
The Findings
We have split the heatmaps into two distinct regions of Dubai where we have observed the highest density of visitor home locations:
City Walk and surrounding neighborhoods including Jumeirah, Satwa and Downtown
South of City Walk neighborhoods including The Palm Jumeirah, Dubai Marina, Jumeirah Lake Towers and Barsha districts

City Walk & Surrounding Neighborhoods
As expected, City Walk and its surrounding neighborhoods provided the highest density of City Walk visitor clustering across Dubai as a whole. These residential neighborhoods form the core catchment area for visitors with City Walk itself revealing a high density as it's a mixed-use real estate hub with a sizable volume of residential units.
The Jumeirah communities, Al Satwa, Al Wasl, Al Bada'a and Sheikh Zayed Road high rise towers are the leading catchment areas for City Walk visitors. Interestingly, large clusters of Downtown residential areas including Business Bay also show solid density of City Walk visitors revealing some competitive overlap with Dubai Mall and Bay Avenue.
Immediately south of City Walk in areas such as Al Safa, Umm Suqeim and Umm Al Sheif (all areas south of the Dubai Creek), City Walk relative visitor clustering density drops quite visibly. Could it be that these neighborhoods prefer competitive shopping venues such as Mall of the Emirates and other local shopping hubs? Further analysis would be required to answer this question.
South Dubai Neighborhoods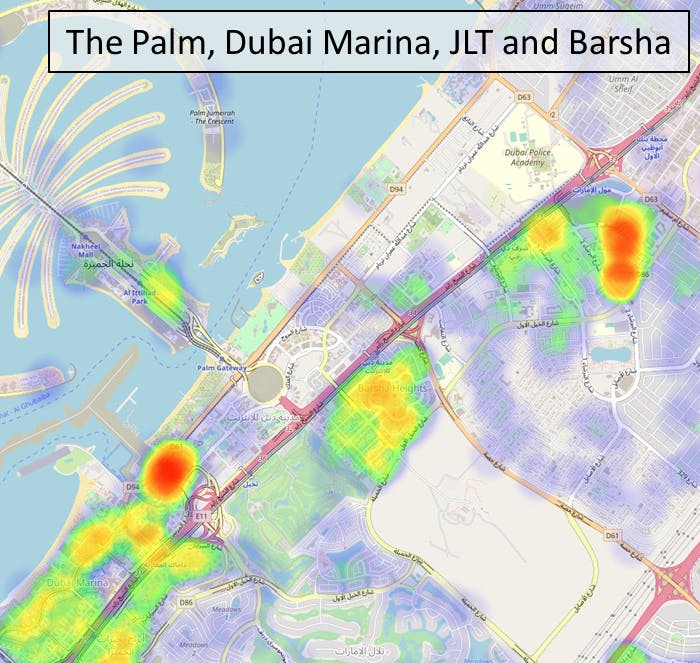 The first thing to note, is that there are clearly isolated clusters of City Walk visitors living further afield to the south of the venue. The tallest residential towers in Dubai Marina reveals a high density as do residential towers in the immediate vicinity of Mall of the Emirates in Al Barsha 1. This clustering density is much higher than most neighborhoods that are situated closer but south of City Walk. There is also a reasonable density of visitor clustering throughout the rest of Dubai Marina, Jumeirah Beach Residences, Jumeirah Lake Towers, Barsha Heights and within the trunk of Palm Jumeirah, particularly in the Shoreline apartments. For this last area, it would be useful to monitor the effects of the upcoming Nakheel Mall launch located on the Palm Jumeirah trunk to view the effects this will have on City Walk visitors, most likely cannibalizing visitor traffic once the doors open.
The Conclusion
City Walk is successfully attracting footfall from Dubai residents across many areas of the Emirate both near and further afield. With some residents of competing lifestyle destinations such as Jumeirah Beach Residences and Dubai Marina making the journey to City Walk despite having comparable lifestyle venues on their doorstep. It is worth noting that City Walk visitors' home locations did show more consistent density further to the north in areas such as Bur Dubai, Karama and Deira particularly surrounding Dubai Creek. This clustering was more widespread than we anticipated and was more consistent than the density clustering to the south of City Walk which revealed pockets of visitor locations only.
A more in-depth study comparing, overlapping and benchmarking competing lifestyle destinations to City Walk would be a natural next step. Identifying and isolating key competitive lifestyle shopping hubs whether owned by Meraas or by its competitors would provide a good depth of insights. For instance, how do City Walk visitors compare with say Boxpark or La Mer both owned by Meraas and situated in close proximity to eachother?
Most importantly, it would be worth considering a more continuous analysis of visitor catchment areas over time as this would allow for deeper trends and measurement of the impact of seasonality and/or new retail mall launches. Despite the insights gathered, heatmaps like this case study should be viewed as a starting point to leveraging location data rather than providing a complete picture.