Introduction

As with many B2C industries, COVID-19 directly impacted the automotive sector resulting in significant revenue losses this year. Residents in the UAE are not buying cars as they used to. Despite recent government efforts to ease restrictions and stimulate commerce, many retail sectors have witnessed an adjustment in purchase habits, consumer confidence and some of these changes may endure for the foreseeable future. For our fourth instalment in the series of "Mapping COVID-19", we analysed auto purchasing habits in the UAE. We measured consumer movements across car showrooms and augmented this with a survey to UAE residents to reveal their opinions on how the pandemic has impacted their automotive purchase decisions today and tomorrow.
Methodology

Utilising mobile location signals from 3 million devices within the UAE, we investigated movement patterns across all major automotive brands' retail showrooms in both Abu Dhabi and Dubai. This includes new and used car retail locations. The analysis starts in January 2020, before the regional impact of COVID-19, and concludes at the end of August 2020 last month. As with all posts in the "Mapping COVID-19" series, we also leveraged surveys across 300 respondents to uncover UAE residents' views and opinions to augment what we are revealing from their physical behaviours.
Human Mobility: Car Showrooms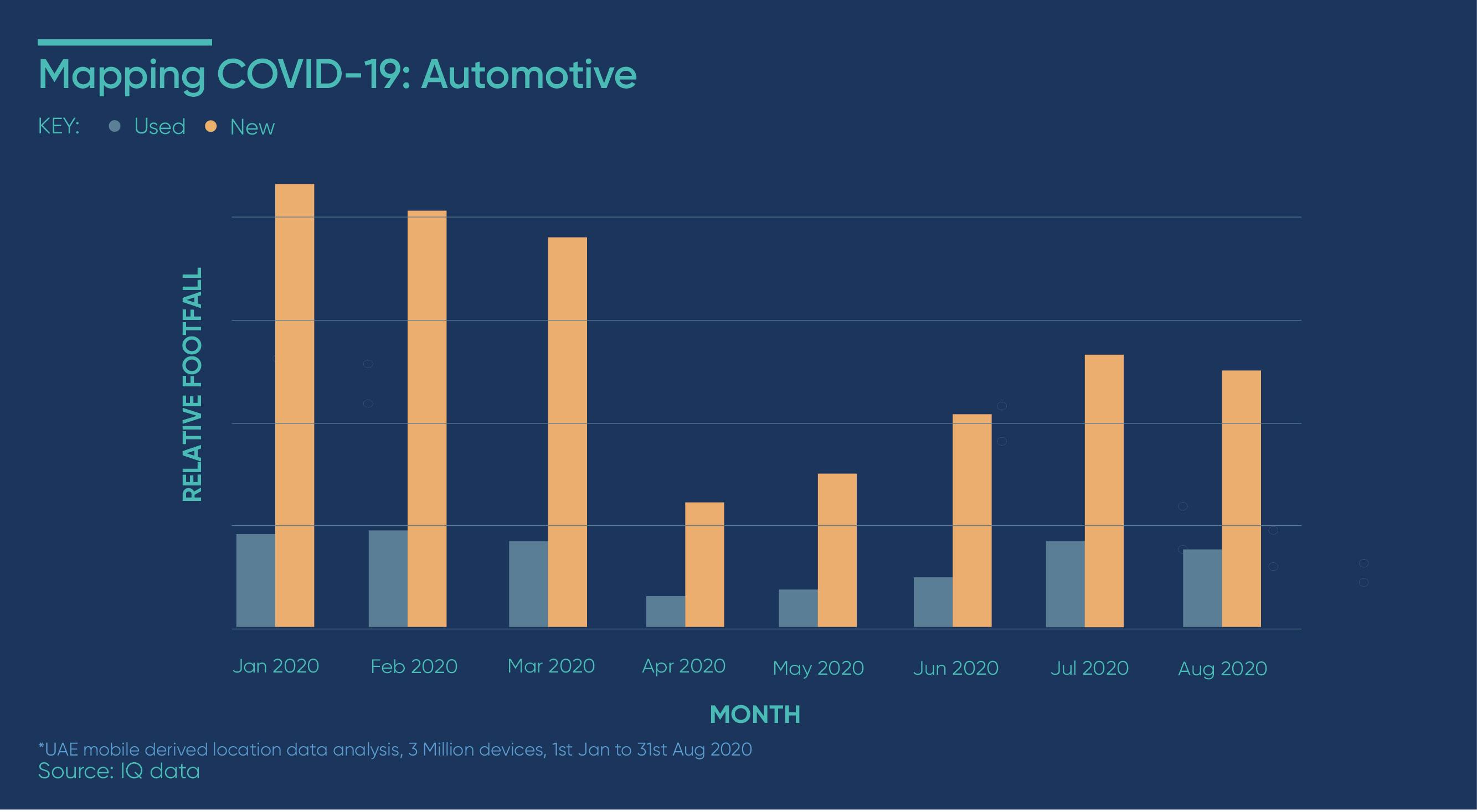 January to March 2020 gives a good indication of what the economic activity in all the major automotive showrooms (both new and used) was pre-COVID and this serves as a baseline to compare against subsequent months. There was a slight, consistent month-on-month decline in the first quarter of 2020 which may reflect the growing concerns of residents to the virus. Then in April, due to the lockdown, showroom visitation dropped off the proverbial cliff resulting in a severe reduction of nearly 70% in just one month. Interestingly, April being the first full-month under lock-down also represents the lowest footfall month this year thus far. Showroom visits steadily increased thereafter from May through to July 2020 and slightly slowed again in August which typically is one of the slowest months of the year regionally. Till date, showroom visits have still not fully recovered to pre-COVID levels (down 25%) but given past years' weak summer seasonality trends it may not be possible to assess this recovery until Q4 2020.
Access to a Car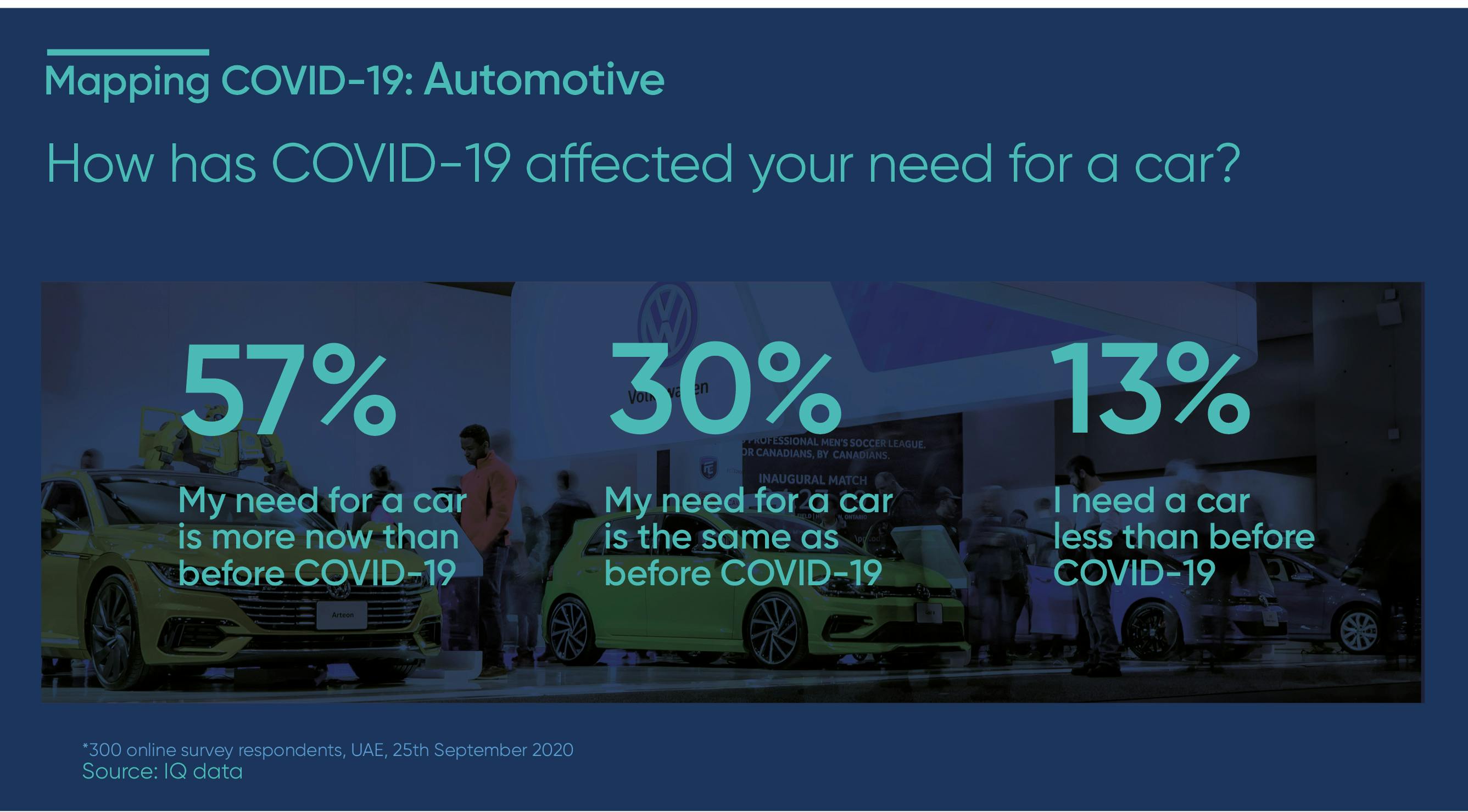 Despite the drop in auto showroom visits, UAE residents still need access to a car more than ever. The vast majority or 87% of respondents confirmed that they have the same or more need for a car today than before the pandemic. The single biggest reason for this is stated as concern for social distancing with 68% agreeing that a car represents the safest means of travel when compared with public transport alternatives.  The 13% with reduced need for a vehicle cited change in employment conditions, largely working from home.
Delays and Budget Cuts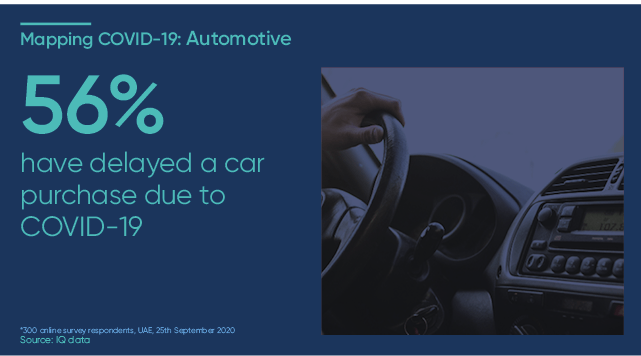 Access to a car is overwhelmingly key to UAE residents when considering their means of day-to-day commuting and mobility. The biggest dual threat facing the automotive industry however is regarding purchase delays and budgets. A majority or 56% of UAE respondents have delayed their decision to purchase a car directly on account of COVID-19. Additionally, 52% of these same respondents also state that when they do decide to make a car purchase, that they will spend less than before the pandemic. These are worrying trends for the industry in the near-term.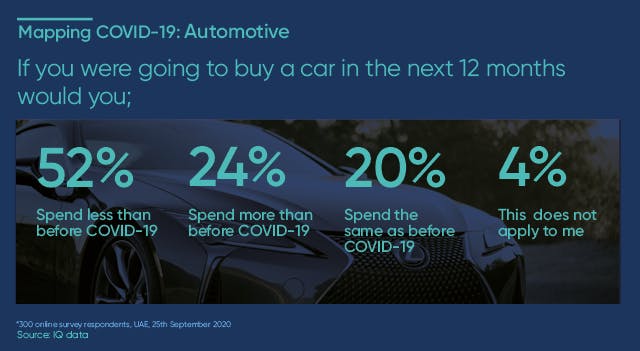 Following on from our last article 'Mapping COVID-19 – Workplaces' it was discovered that 58% of UAE residents had a reduced income due to the pandemic, therefore it is almost certain that significant purchasing decisions, such as a car, are primarily being driven by this.
Human Mobility: Used Cars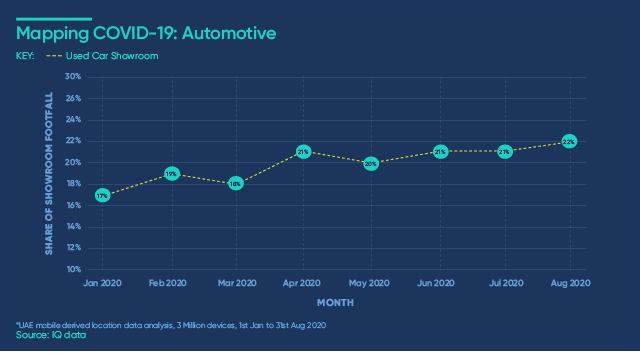 We've established that auto retail footfall is down overall and recovering slowly due to the pandemic. In addition, we also know that car buyers are likely to spend less on a new car purchase. Seemingly as a result, the share of visits to used car dealerships, rather than new car showrooms, has steadily increased and is up 29% since pre-COVID. This trend supports the survey feedback highlighted above. It is also worth noting that there has been an influx of used vehicles on the market as many expatriates have left the country given their loss of employment. Pre-owned cars can represent better perceived value for buyers during times of uncertainty and this may help explain this trend.
Alternatives to Showroom Visits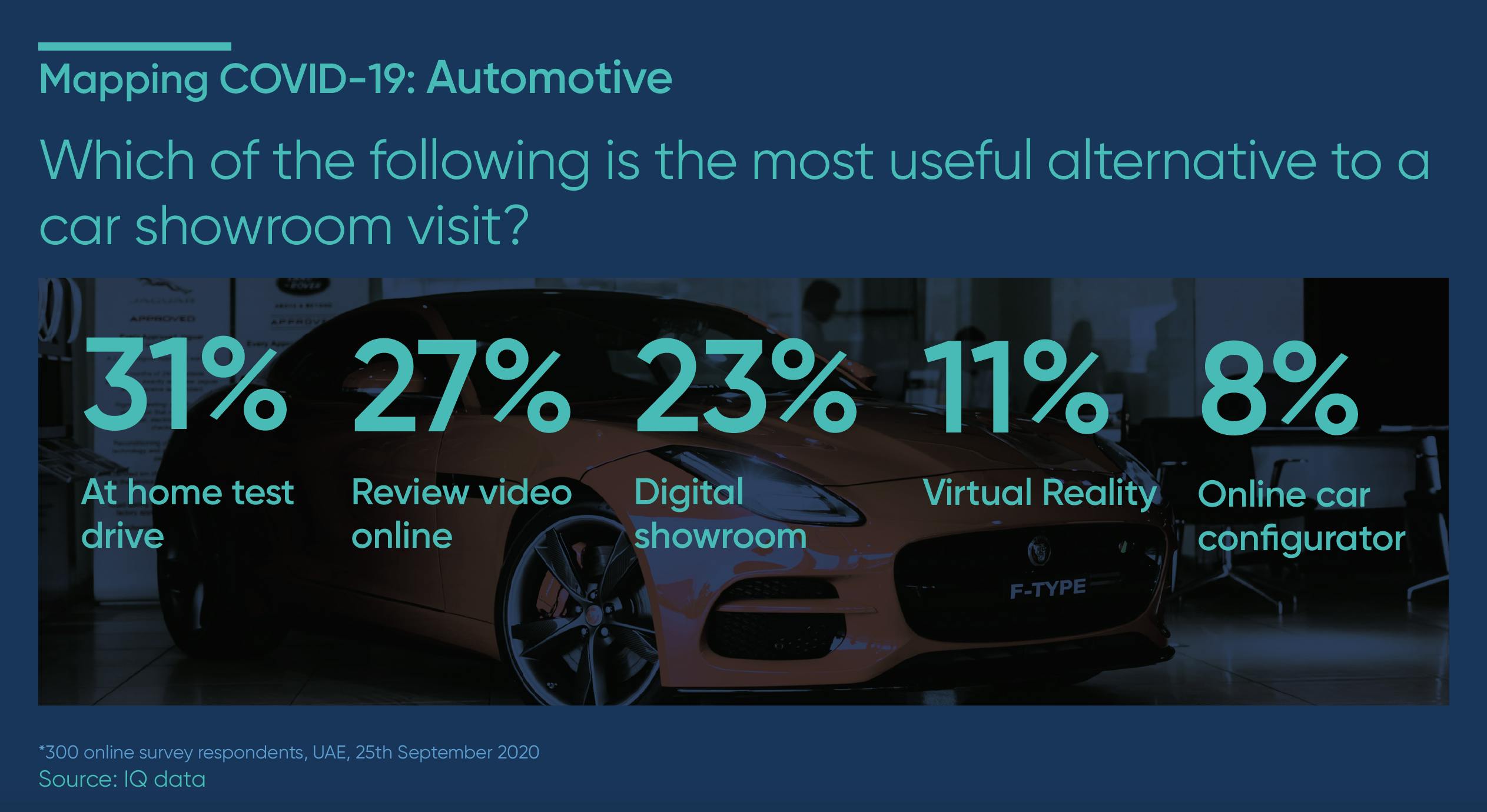 Social distancing continues to be a chief concern for residents across the UAE. Auto brands may have little choice but to continue to prioritise innovative marketing approaches in light of the pandemic. From a shortlist of options, consumers were split on which alternatives to physical showroom visits were most important. 31% opted for a test drive service from home whilst 27% see online car review videos as the most important resource when considering which car to buy. This was followed closely by 23% who would like the option of an online/digital showroom experience and this links with 11% who value the use of Virtual Reality in evaluating a prospective purchase. It is apparent that people still want to engage with auto brands even if they may not physically visit a car showroom. Automotive brands must reconsider their customer experience as they shift from physical customer interaction and evolve into more a digital customer engagement journey. This represents a significant challenge for a sector which traditionally relies on salespeople at the heart of the customer purchase process.
In Summary

It will be interesting to see how key automotive dealerships will evolve throughout Q4 2020 and how footfall and consumer buying habits will change. The pandemic has significantly impacted how consumers think about and shop for vehicles. Car dealerships need to implement alternative car purchasing experiences for consumers – leveraging technology effectively. As certain practices will need to be modified temporarily, others will most likely be permanent and the start of a new shopping experience in the automotive world.   
Contact Us

Here at IQ data we're here to help you gain new data driven insights to help you make better informed decisions. Leveraging our IQ GeoPlace Customer Analytics Platform, IQ data conducts location data analysis across specific venues or networks of venues to put more context around footfall and visitors. To enquire or for further info please reach out to info@iqdata.ai to learn how we can help you.